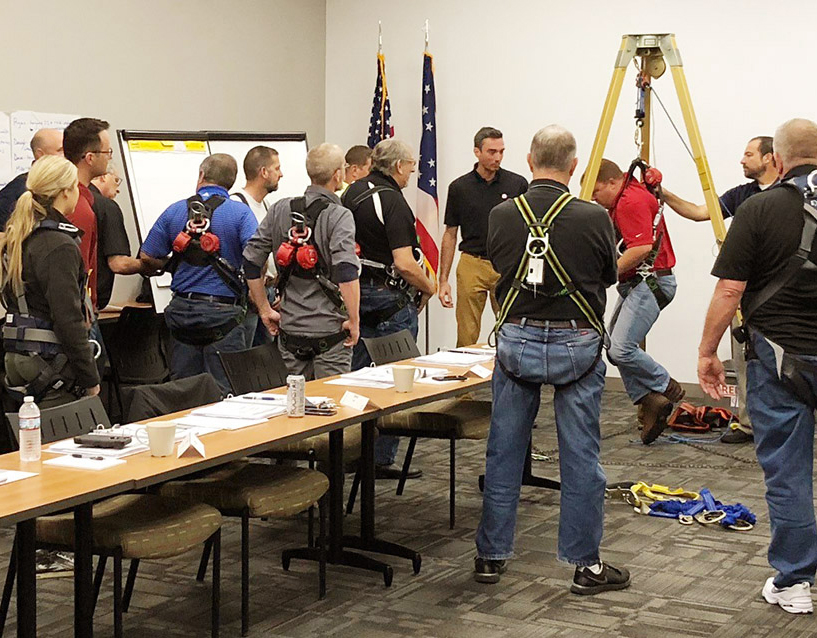 Gain life-saving skills from unbiased experts.
A fall protection program is only as effective as the knowledge and expertise of those who design, follow and enforce it.
That's why, at LJB University, we specialize in fall protection training that's hands-on and comprehensive—no matter your level of expertise. Our fall protection courses combine regulations, standards and best practices with information on equipment use and limitations, enabling you to identify and correct potential fall protection issues before they arise.
LJB does not manufacture, distribute or sell fall protection equipment. Our instructors are unbiased experts whose only concern is improving safety at your organization.
3-Day Competent Person Fall Protection Training
July 28-30, 2020
Dayton, OH


Upcoming KoneCranes Training Institute Classes Powered by LJB
3-Day Competent Person Fall Protection Training

Aug. 25-27, 2020
Pittsburgh, PA

Nov. 17-19, 2020
Springfield, OH


1-Day Authorized Person Fall Protection Training
July 17, 2020
Baltimore, MD
Aug. 28, 2020
Pittsburgh, PA
Oct. 2, 2020
Chicago, IL
Thousands of safety professionals have trusted LJB University for fall protection training, including our authorized person, competent person and qualified person courses:

Through interactive instruction, multimedia resources, and hands-on exercises, you will gain the knowledge to use fall protection properly in your daily work and to become aware of fall risks in your work environment.
Who should attend:
Anyone who uses fall protection equipment
Duration: 1 day (8 hours)

Along with gaining the knowledge and expertise required to become a recognized OSHA competent person, you will acquire the insights and skills to develop and implement your own comprehensive, cost-effective and attainable fall hazard control program.
Who should attend:
Maintenance or production supervisors, safety professionals at all levels, fall protection program administrators, managers, facility engineers, or anyone responsible for overseeing workers exposed to fall hazards
Duration: 3-5 days (24-40 hours)

This advanced program is designed for individuals who are technically literate in fundamental engineering topics and who engage in design-related projects. Trainees gain the skills required to become qualified persons, as defined by OSHA. Completing competent person fall protection training prior to this course is recommended but not required.
Who should attend:
Anyone responsible for design-related projects and whose work involves addressing fall protection issues and supervising workers at heights, including safety engineering professionals, project engineers, facilities engineers, and civil, structural, mechanical, stress, electrical, and chemical design engineers
Duration: 5 days (40 hours)

Our competent person fall protection course complies with U.S. Army Corps of Engineer EM 385 requirements, and the content in both our competent person and qualified person fall protection courses exceeds the training performance criteria set forth by OSHA and the current criteria from the ANSI Z359.2-2017 standard.

The training also conforms to American National Standard Z490.1, Criteria for Accepted Practices in Safety, Health, and Environmental Training.
What LJB University students say